Phablets are no passing phad
While just 20 million of the 980 million smartphones shipped globally in 2013 were phablets, that number is predicted by Juniper Research to lift 600% to reach 120 million by 2018.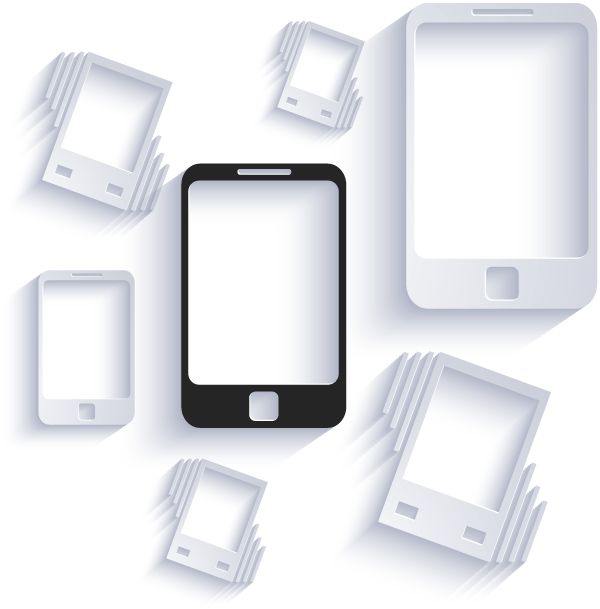 Mobile users choose a smartphone when they want an easily portable device that,in addition to phone functionality, lets them browse the Internet and access media and information. They choose a tablet when they want the richer viewing experience offered by the tablet's bigger screen size.
By combining the functionality and portability of the smartphone with a larger screen size, the phablet could be considered the best of both devices — or possibly a combination of the worst.
Only time in the market will tell, but for now, we can look at user behavior and ask: Is a phablet closer to a smartphone or a tablet? Or are phablet users forging their own set of characteristics and thus deserve their own category?
To find out, we selected 13 mobile devices that fit the criteria for "phablet," that is, smartphones with screens that measure diagonally between five and seven inches (130 to 180 mm). Among the devices we included were the various versions of the Samsung Galaxy Note, Sony Xperia Z, HTC One Max, Nokia Lumia and LG Optimus G Pro.
We then analyzed traffic running across the Opera Mediaworks mobile ad platform in March and April to determine global traffic volume (number of ad impressions) by publisher content category. Finally, we turned our attention to traffic in the United States and measured traffic and engagement (click-through rates) over the course of 24 hours, to determine usage patterns by time of day.
While phablets are still an emerging market, and traffic volumes are relatively low, Samsung devices drove the majority of global phablet traffic for our study, with the majority of this traffic originating from countries in Asia.

Phablet users are social networking powerhouses
Looking at the types of sites and apps frequented by phablet users, we can see a distinct profile.
• Social networking is by far the top category (53.8% of total impressions served), far outpacing social site usage from phones and tablets.
• Phablet users are far less likely to use News & Information sites than phone users and fall well short of tablet users in their interest in Gaming, and Music, Video & Media.
• In other areas, we did not notice a significant difference.
In short, while the profile of phablet users is somewhat similar to smartphone users (i.e, more social than media-oriented) phablet users are starting to appear to be a distinct group.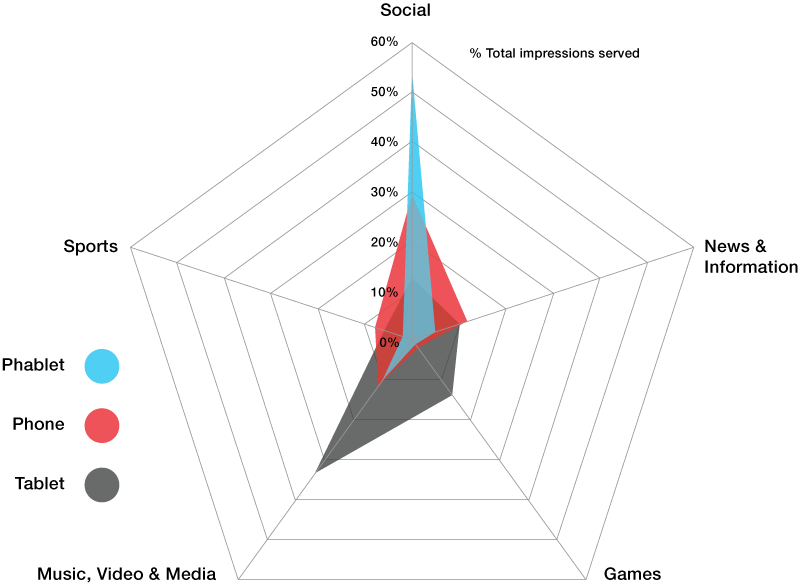 Nighttime is the right time for ads on phablets

Advertisers might be tempted to get their messages out to consumers during peak use periods, but the data clearly shows that mobile users are most receptive to advertising in the evening, during their "lean back" period.

Phablet traffic volume in the United States is highest, for instance, between 9am and noon — but engagement on ads, as measured by click-through rate, lifts significantly in the evening (8-10pm).
Tablet traffic, however, is highest in the evening, but CTR is also fairly low. Phablet CTR is also significantly higher than tablet CTR throughout the day.
The early evening (5-7pm) shows a significant dip in phablet traffic and engagement, as users are commuting home and having dinner, and/or spending time with their families.
About Opera Mediaworks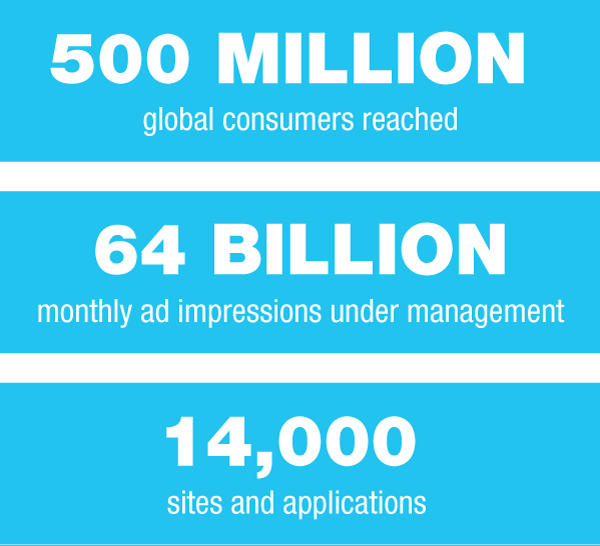 Opera Mediaworks powers the mobile ad economy through technology innovation, transparency and trust, to create vibrant marketplaces for publishers and advertisers across the globe. This enables advertisers to efficiently reach their target audience and publishers to improve their monetization. Opera Mediaworks operates the world's biggest brand-focused mobile ad network, serving 23 of the 25 top global brands. We also deliver the world's leading mobile ad server and monetization tools to 17 of the top 25 media companies worldwide. Our mission is to deliver relevance in the medium where it matters most -- on mobile devices.
Headquartered in Silicon Valley, California, Opera Mediaworks has offices in New York, United Kingdom, Germany, Argentina, Brazil, Mexico, India, Indonesia, Russia, Ukraine and Norway. Opera Mediaworks is a wholly-owned subsidiary of Opera Software ASA, which is listed on the Oslo Stock Exchange under the ticker symbol OPERA. Learn more about Opera Mediaworks at www.operamediaworks.com.